Rotational Molding Tolerance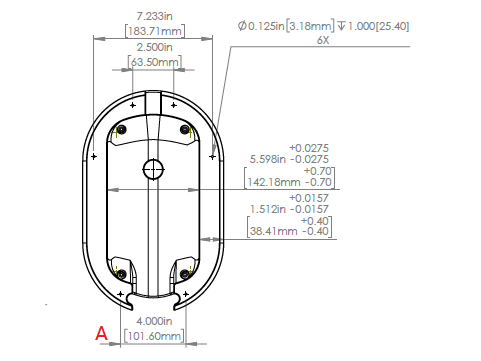 In different industry, the tolerance standard is different based on different processing and application. Rotational Molding Tolerance is a little bit than other precision casting industry due to plastic material shrinkage properties.
Fly Plastic has developed many successful rotational molding projects for all kinds of customers from all over the world. The above photo is a project from one of our customer, we meet this product warpped quantity sudden sharp increase on A position.
At first, we don't believe this problem happen, because our previous products are normal and there is no change the mold and processing steps.
According to our engineer experience, we find the problem is from the temperature changed. Our previous products were made on summber, but the lastest batch was made on winter. Under the cold situation, the unmolding product cooling is faster than warm environment, causing the product shrinkage heavily.
At the same time, our customer require do foaming for this product, so it also needs care the foaming time. To get a qualified products, our workers need to always note the foaming status. At the beginning, it only needs 20 minutes in the summer, but winter needs 2 hours in foaming steps, which is too long to occupy workers' time. After our cost calcuate again, it needs to add more than 10 foaming molds, then can balance our labor cost.
At present, this problem has been solved, but the main problem is coming from the strick tolerance standard. Our customer request the tolerance is +-0.5mm on A position, which is very tight in the rotational molding industry. Our factory limit for this product is +-0.8mm.
Generally rotational molding tolerance will be a bit big than other metal parts, because rotational molding is the heat forming method and then cooling after unmold, the shinkage is 2.5-3% on usual, whichi cause the tolerance can't be controlled very small.
Of course, some times can use fixtures to control the size more better, but the plastic parts size also will be changed with the room temperature changed.
If you choose rotational molding process to make your products, you should consider more tolerance on your projects.
The following is our rotational molding tolerance standard for most of products:
Size≤1000mm, Tolerance:+-5mm
If your product design is complex, which need to be confirmed by our engineer.